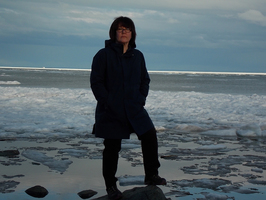 Karen on the beach of Lake Superior
Karen Owsley Nease is a contemporary landscapist whose artwork is rooted in the land and her connections to it. Originally from the Kansas City metro area, she has spent much time on and around working farms and rural woodlands since early childhood. Her work is informed through her practices of habitat restoration, watershed protection and radical environmental philosophy. Respect for craft and a deep knowledge of materials are also important in the creation of that artwork. Through travels, she discovered the imposing beauty of Lake Superior and moved to Duluth, Minnesota in 2013 to be nearer to it.
Karen is a lifelong painter with a concurrent interest in design. She earned a BFA in Painting/Printmaking from the Kansas City Art Institute, and two Architectural degrees from the University of Kansas. Her work is in corporate, museum, and private collections.
"I approach the immediate landscape in much the same way as a naturalist. Instead of words, I use paint. Through intense observation and study about distinct elements in my surroundings I deepen my understanding of the larger system as a whole. My work is an act of witness." ~ Karen Owsley Nease